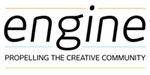 (L. to R.) Deborah Randall, Andy Rosen, and Stephen Burt
Engine's grand opening
In Nature :

Deborah Randall, Andy Rosen, and Stephen Burt
Friday, December 16 • 5-8pm
265 Main Street, Biddeford, Maine
Engine is thrilled to open its Main Street gallery space with the exhibition
In Nature
, featuring the paintings, sculptures, and drawings of
Deborah Randall
,
Andy Rosen
and
Stephen Burt
.
The work of Randall, Rosen, and Burt—all Maine artists who teach at the University of New England-Biddeford—shares a common thread of nature, but not in a traditional representative style. Randall's paintings predominantly feature abstracted human forms in natural environments, while Andy Rosen's sculptural creatures blend the familiar with the fantastical, and Stephen Burt's meticulous landscape drawings feel imbued with a previous centuries' motifs, yet crisply modern at the same time.
Engine is proud to host these three talented Maine artists for its first "official" exhibition.
---
Handmade on Main
On opening night, Engine will also introduce
Handmade on Main
, a small retail shop within the gallery that will offer original work by local artisans. Friday night's opening reception with feature four artists from Maine Craft Association: Cathie Cantara (pottery), Ann Thompson (metal), Karen Gola (glass), and Hope Murphy (glass).
Please remember to buy local this holiday season and support Maine artists and crafters!
---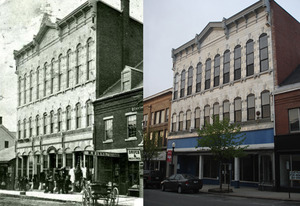 The $50,000 Marble Block Challenge
Engine has accepted the generous gift of the former Renys building at 129 Main Street in Biddeford. Known as the Marble Block, the building was donated by the R.H. Reny family. Engine will immediately make necessary structural repairs, winterize the building, and host a collaborative community design session for input on the building's future.
And then comes the challenge:
Engine is currently raising $50,000 to cover acquisition costs, legal fees, insurance, winterization, maintenance, and urgent structural repairs to the circa-1880s building. These funds will allow Engine to develop and execute a major redevelopment plan.
Read more about our initial vision and how you can donate here.